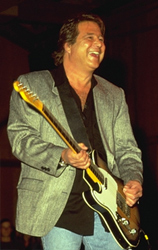 I resisted putting up a web sight for years. I'm not sure why. Maybe I thought it was bad juju, I don't know. Well, here it is! The long awaited Greg Kihn.com. Two people were instrumental in this undertaking: my manager and business partner for decades Joel Turtle, who's been after me to do this for years, and Rick Baretta, another old friend of mine, who is the actual architect and webmaster of this baby. Were it not for the encouragement of these two men, this would undoubtedly still be a dream.

I have a ton of archival stuff just sitting around oxidizing in my closet. Here it can find a home. You'll be able to view pictures going back thirty years, look at posters and live footage, read some of my literary work, absorb my own pithy comments, and even buy stuff.

I plan to keep an online journal of events and thoughts, and make available some previously unreleased items, all in an effort to inform and entertain you. These are lofty goals, and I'm the world's busiest man, so the question springs to mind- just how long will it last? If you ask Rick and Joel, I'm sure they would shout together in unison, "As long as you're still kickin'!"

In this website I will endeavor to keep you abreast of all my careers: music, radio, and writing, as well as pass along some of my philosophy of life. I sincerely hope it doesn't suck. By all accounts it should be a great adventure.
Updates should be volumous.


So here goes.


Steve Wright:
Steve had a massive heart attack following our concert at the Shoreline Amphitheater last August. He was on vacation with his family at the time and had to be airlifted to the hospital. Shortly thereafter he suffered a debilitating stroke which paralyzed the right side of his body and robbed him of his ability to speak. Steve's recovery is slower than we'd hoped but the good news is he has recovered some of his speech and movement. He continues to work at hard at his rehabilitation and I am confident that it is only a matter of time before Steve rejoins the band. Steve has been with me from day one and his contribution to the Greg Kihn Band was, and is, invaluable. He co-wrote all the hits with me and served as band director since 1975. I should add that he's been my best friend for most of my adult life and has outlasted several wives, managers, record companies, and booking agents. Steve's remarkable family have been very supportive and inspirational in this trying time. We all pray for a full recovery. I'll update Steve's condition as it changes. Cards and letters can be sent to a P.O. Box to be set up soon.

Ry Kihn:
My son Ry has been quite busy lately with his own career which is about to explode. Besides playing lead guitar in the
GKB, he's also part of Big Fun, a popular Bay Area cover band that features Cythia Osevedos on vocals. For the first time in years I'm writing new songs. Working on the new material with Ry is reminiscent of working with Steve in the heyday of the GKB. Ry's solo effort, entitled K2, is in production now and should be out commercially very soon. The songwriting credits on the CD will read Kihn & Kihn. I am extremely proud of that. Ry is far more talented than I, and his career in music should be long and successful. His guitar playing is spectacular. A graduate of Cal Arts with a degree in Jazz Guitar, Ry also gives guitar lessons privately at his own studio in San Jose. By the way, one of Ry's early guitar teachers was Joe Satriani, who played lead in the GKB back in 1985. As we finish the new songs, I'll be excited to post updates on Ry's project.

Radio:
My morning radio show on classic rock station 98.5 KFOX in San Jose, California is going great guns. The ratings are through the roof and the last time I checked we were #1. I am currently renegotiating my contract with KFOX, and hope to be there for many years to come. Radio has been a passion of mine since the early days. I've been on the air at KFOX for eight years now, but it only seems like a few weeks. The people there are friends I've known for years. Chris Jackson, my producer for the morning show, is the consummate pro. Laurie Roberts, who follows me after the morning drive, used to interview me way back when I was young and wild. Working alongside these radio veterans has been like getting a P.H.D. I couldn't be happier. For all those people who say I talk too much for a classic rock morning show can now take solace in the fact that I am about to launch my own call-in show for conservative talk radio station KNEW (Talk 910) in San Francisco, tentatively scheduled for Saturday mornings. I am opinionated and I ain't shy about it. I can't wait to get my teeth into the topics of the day, and hear what people think about the world these days. It truly is a world gone mad. Civilization is at the crossroads. Tune in to see how it all comes out.

Writing:
After taking several years off from novel writing, I have finally resumed work on my Beatles novel RUBBER SOUL. It should be finished by the end of the year. CARVED IN ROCK, an anthology of short stories by musicians which I edited and contributed a story, has been published by Thunders Mouth Press, a subsidiary of the Avalon Publishing Group and is available now at your favorite bookstore. It's a really cool book featuring stories by some of your favorite musicians like Joan Jett, Ray Davies, Pete Townsend, and Kinky Friedman. I am preparing a movie script called GODZILLA IN LOVE for my agent to peddle around Hollywood. It's a romantic comedy if you're keeping track of such things. Hopefully, in a few years, we will be standing in line to see it. Don't hold your breath though, Hollywood is still La-La Land, and most movie scripts never get made. Still, I keep writing. I have a horror story called ABOMINATION coming out this fall in the erotic horror anthology HOT BLOOD (Hot Blood Vol. 12 Strange Bedfellows).